Each Thursday, we'll address issues that are worrying businesses like yours.  We'll share three articles on the week's topic and pick out our favourite tip or insight from each article.
We filter the white noise that might be clogging your inbox.  You get your time back to focus on what you do best.  Deal?
This week we asked ourselves: how can your business increase sharing of your Facebook posts?
1.  Share a photo with a link, not a link with a photo.
They say a picture is worth a thousand words.  Use it to your advantage when sharing blog posts on Facebook.  Share an eye-catching photo from the blog post in your status update and make sure to include a hyperlink to the blog post in the photo's caption.
Damien Rowse, the man behind ProBlogger, Digital Photography School and many others, tried it and watched the spike in traffic.
2.  Keep it short and universal with a call to action.
Personality is great.  It's one of the big reasons to use Facebook.  But writing a short, simple post that could come from anyone can work too.
Mari Smith, the go-to gal in US social media, shared this example of a photo of a puppy and teddy with the narrative: "How adorable is this?!  Go ahead and share it."  1,700 people did.  All they had to do was press the share button.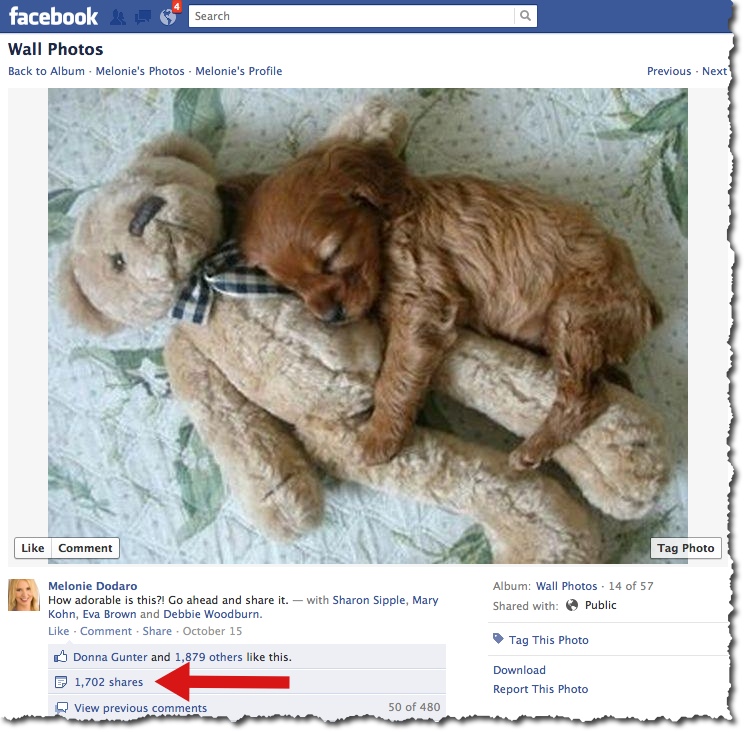 3.  Help others strengthen their relationships.
This great New York Times Insights Group study on the Psychology of Sharing included this gem: Appeal to consumers' motivation to connect with each other – not just with your brand.
Why do we connect?  To bring valuable and entertaining content to others, define ourselves to others, grow and nourish our relationships, experience self-fulfillment, and get the word out about causes and brands.
(Hat tip: Jeff Bullas)
Tell us
Did we miss the best article ever? 
Did you write an article on how businesses can increase sharing of their Facebook posts?
Go ahead… share it with us…